Deskera CRM: Click & Type
Just because your business management software is on-demand, doesn't mean you have to give up the feature set of a rich desktop type application – like your favorite spreadsheet. The most basic way to maintain the information you need for customer relationship management is to use a spreadsheet. We all do that. Of course, as your client base grows, you will want advanced, dedicated tools to handle all the data.
That's when you start using Deskera CRM.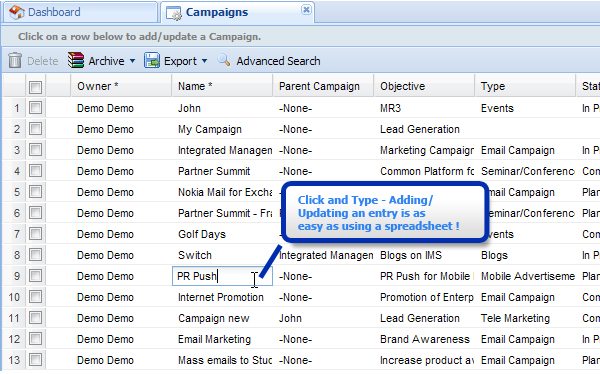 Most CRM packages involve lots of forms, input fields, and connections that need to be set up by hand. Users have to go through a lot of screens just to get a simple task done. Deskera CRM is different: every task is only three clicks long. Our click & type functionality means that every time you see a piece of data, you can select it, edit it, and manipulate it in any way you need – without going through any additional tabs or menus. Much like a spreadsheet, the data is always in your complete control.