Customize Deskera CRM: Capture the details you need
With Deskera CRM, you can choose to capture only the relevant details of all your customers, prospects and more according to your business requirements. 'Add custom column' in Deskera CRM allows you to create customized columns for CRM modules such as Campaigns, Leads, Accounts, Cases and more.
You can easily add a custom column, select the columns you want to display, simply click and type to enter relevant details in an intuitive spreadsheet interface.
How to add a Custom Column?
Adding a custom column is quite an easy task. Select "Add Custom Column" under the "Customize Columns" drop down.

Fill in the required details such as column heading, maximum length of column, field type and more. Mark your desired column as compulsory by selecting the 'Is mandatory' check box. You can even incorporate data validation for the custom column by defining the type of data to be entered. If the user enters any other field other than your specified 'data type', the entered data will not be accepted. You also have the option to add custom formulas to the new column added.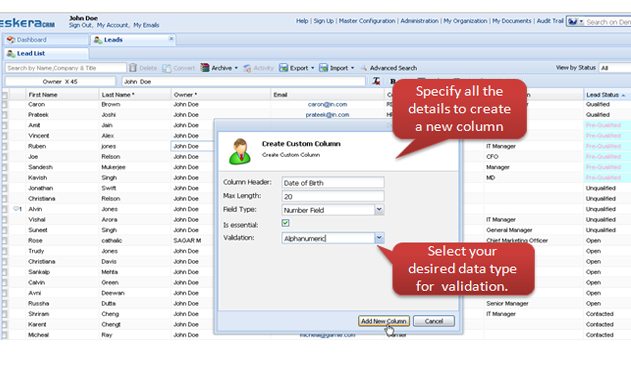 You can also easily delete a custom column added by clicking on "Manage Columns" dropdown, selecting the custom column which you want to delete and then clicking on "Delete Custom Column". The system will prompt a confirmation message before deleting the custom column.
Click here to view Deskera CRM Demo.
Watch out our interactive video on adding a custom column, Now!