What Are The Commonly Used Payment Terms in Invoicing
Getting paid is good. Getting paid on time is better!
The delight of zero account receivables :)

— Saurabh (@ssri345) May 29, 2020
---
Payment terms define how and when the payment(s) against an invoice will be made to a supplier from their customer. Getting paid on or before the due date keeps you cash flow healthy, and payment terms help you achieve this as well as keep you aware of any long outstanding receivables. And of course, getting paid on or before time makes everyone happy!
If you are new to payment terms, you may want to go through our comprehensive article which explains payment terms in detail.
Payment terms appear on the actual invoice and will contain details about one or more of the following:
When the payment is due (COD, PIA, NET 30, NET 60 etc)
How the payment is to be made (Cash, Cheque, Bank Transfer, Online etc)
If there are any discounts e.g. early payment discounts (Pay before due date to get 10% discount)
Whether there are any special conditions related to the payment e.g. contra payments (if the payment is to be offset against any other payment owed by the customer to the supplier)
It is prudent to discuss and agree on payment terms mutually with your customers before even engaging in business together. That way, you could include the payment terms when sending an invoice to your customers without causing any surprises.
If you are using an online accounting and invoicing software, it pays to tag the payment term against your contacts, both suppliers and customers, so that the system helps you with the payment schedules.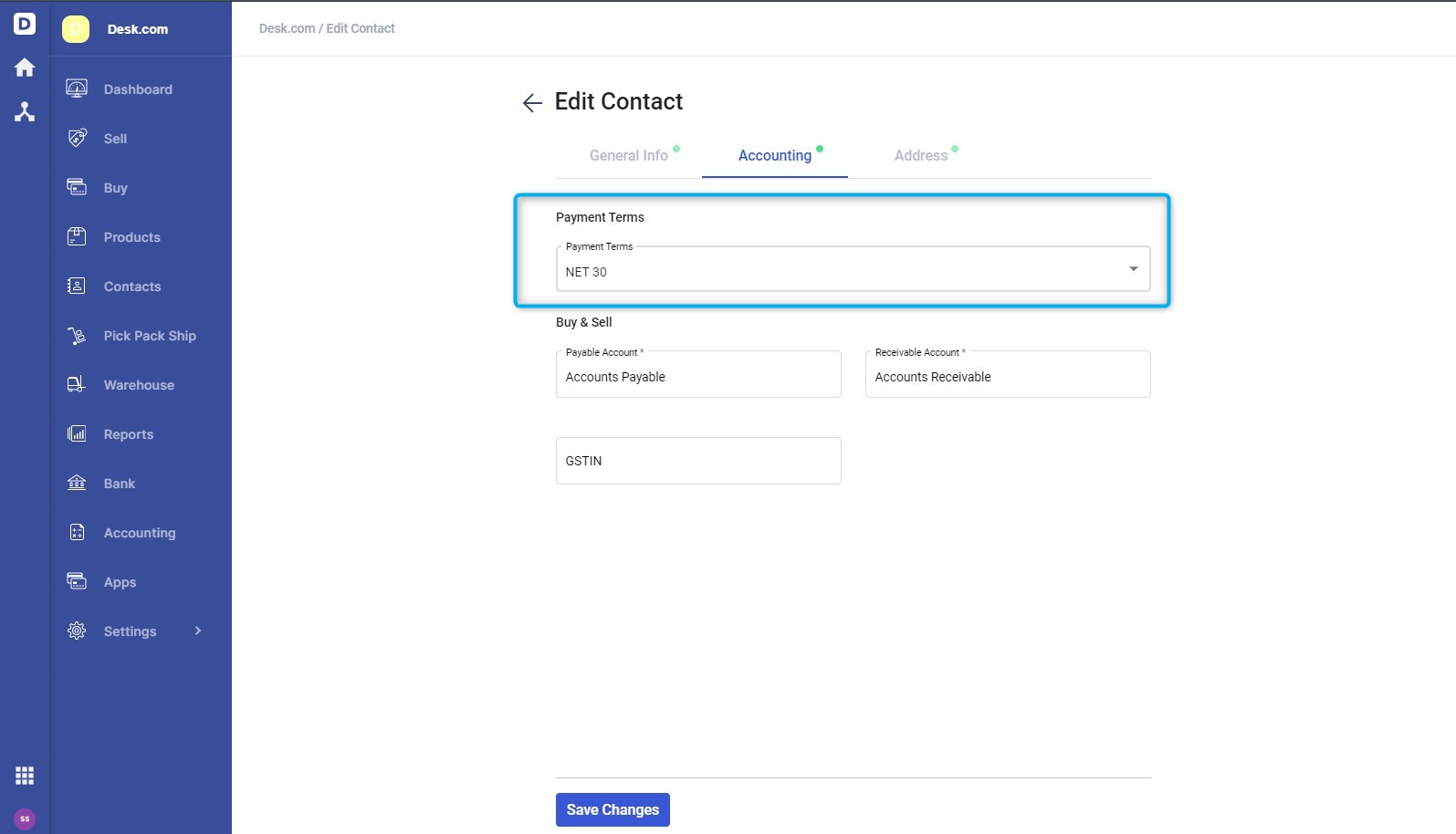 Common Payment Terms
Some of the most common payment terms you can find on invoices that you see floating around are listed below with description:
Net "X" (e.g. Net 7, Net 10, Net 30) - This means that the payment is expected within the "X" number of days from the issue of the invoice (invoice date)
COD (Cash on Delivery) - When the payment is expected in cash at the time of the delivery of the service. This is probably the most common payment term in use across the world
CIA or PIA (Cash in Advance or Payment in Advance) - Also referred to as downpayment or deposit, or CWO (Cash With Order) in some circles, this is commonly used on invoices in industries where an initial investment is required by the supplier before undertaking an assignment
CBS or PBS (Cash/Payment Before Shipment) - Similar to CIA/PIA, with the difference that instead of before commencing the work, the payment is requested after completion, but before the delivery or shipment of the actual goods. This is more common in industries which assemble goods with low or no initial investment.
X% Y Net Z (e.g. 5% 10 Net 30) - This is used to encourage payment before due dates by offering a discount. The supplier offers a discount of X% if the payment against the invoice is made within Y days when the actual due date is Z. So a 5% 10 Net 30 translates to -> 5% discount if paid within 10 days of issuing invoice. Otherwise payment is expected in 30 days from the invoice date.
Letter of Credit - When the payment is undertaken by a bank via documented credit. This is often used in export/import industry.
Bills of Exchange - This is similar to a Letter of Credit
Contra - If the parties involved in a transaction are each other's customers, they can issue invoices with "contra" payment terms to adjust owed invoices to each other e.g. I Company A owes company B $100, and Company A sends an invoice of $100 to Company B, they can choose to offset it agianst the owed amount.
Stage Payments or Milestone Payments - When payments are associated with completion of specific stages or milestone achievement. This payment term is most common in project based industries with long project life (e.g. construction). If your project is estimated to run for a few months, or years, it is advisable to raise invoices and collect payments regularly for maintaining a healthy cash flow
EOM or EOQ (End of Month or End of Quarter) - For industries with large volume transactions, it is better to fix a payment term at specific times. This reduces the administrative effort to record payments against each invoice, and the payment is received in bulk
XX MFI (e.g. 15 MFI) - Some industries opt for payment to be received by a certain date in the next month, irrespective of the invoice issue date. This allows to maintain a standard billing cycle for both the supplier and the customer. This is more commonly seen when the goods or services being offered are recurring in nature or follow the subscription model
Late Fee Penalty - It is prudent to include this in the payment terms to cover any losses which may occur due to late payment
Different Discounts (e.g. $40 off, or 10% free) - There are many discounts like EarlyPayment Discount, Student Discount, Season Discount, Package or Bundle Discount etc. All these are used to make it attractive for customers to just pay the invoice and get a discount. Discounts can be "flat" (fixed amount) or "percentage" (a percent of the invoice value)
Rebates - To entice customers to pay, often rebates are added to the payment term. This is similar to discount with one exception - the invoice is paid in full, and then the rebate amount is sent back to the customer. In certain industries, with repeating orders, the rebates are adjusted against future invoices as well, serving as credit notes.
Cash/Cheque/Online/CC/Bank Transfer - Payment terms may include instructions on how the payment is supposed to be made. SaaS/Internet businesses generally prefer online payment methods via CC/Bank whereas traditional industries like manufacturing prefer it via Cheque or cash.
In Conclusion
There are different payment terms which you can put on your invoice. Choosing the right option depends on the business, nature of work and the negotiations with the customer.
Using an online accounting and invoicing software like Deskera Books not only gives you option to select payment terms for your contacts, but also display them on the generated invoice and send it to your customer. It also allows you to track the payment schedules and whether any invoice is past the due date specified in the payment terms.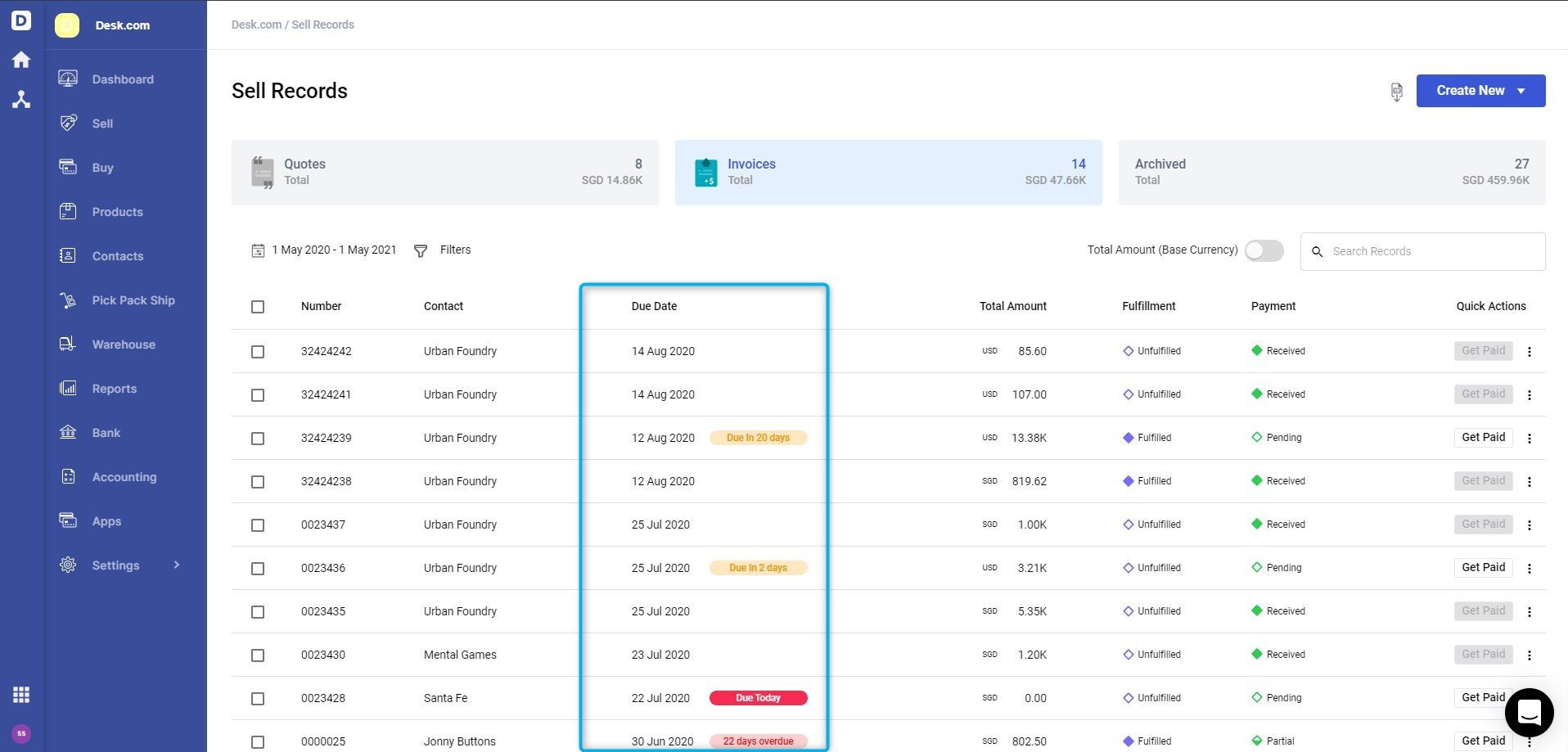 Hope you found this article useful and it helps you in choosing the right payment term on your invoices for better cash flow.
Here are a few other articles from our blog which you may find interesting.