'Bank Reconciliation' in Deskera Accounting for maintaining accurate accounts
Deskera Accounting allows you to compare the accounting records against those shown on your bank statement through the 'Bank Reconciliation' functionality. It allows you to easily identify discrepancies between these records and their probable causes. It enables you to quickly determine whether the discrepancies have resulted due to:
Unsettled transactions such as outstanding checks or deposits in transit.
Manual errors such as missing accounting records.
Sync all your accounting records with bank statements easily with 'Bank Reconciliation' in Deskera Accounting – Ensure accurate and effective accounting records.
Quick Tour
Click on 'Bank Reconciliation Link' on the Accounting dashboard to view 'Begin Reconciliation' window. Specify bank account details and the ending balance as per your bank statement records.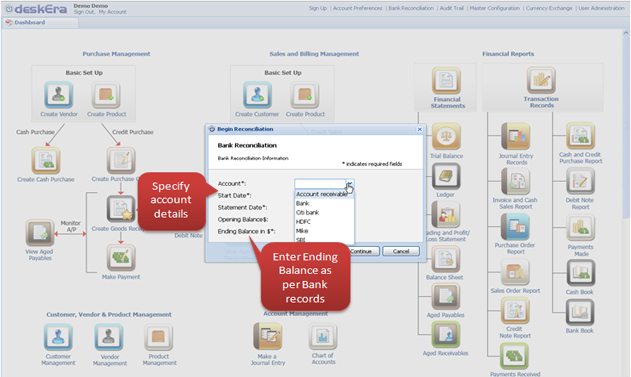 A new window will appear showing you all the transactions (such as checks and payment transactions, deposits and other credit transactions) related to the selected account. You can compare these transactions with your bank statement; select all the transactions present in the statement and monitor the difference in Ending Balance and Clearing Balance. The difference should ideally be zero. If not, it indicates an unsettled or missing transaction and needs further analysis. Click on 'Reconcile now' when the difference is zero.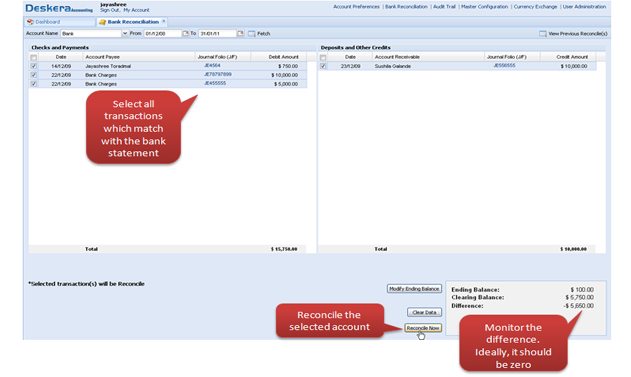 Click here to view Deskera Accounting demo.