3 easy steps to effectively manage Email Campaigns in Deskera CRM
Run successful Email Campaigns and monitor their performance closely.
Deskera CRM allows you to easily add E-mail Marketing to your campaigns and monitor the effectiveness of your marketing campaigns in real time. This feature provides you with a complete campaign management makeover, which will definitely enhance your business prospects.
Create and manage Email Marketing in three easy steps:
Step 1: Create Target Lists
Create a list of people whom you want to target by using a particular email marketing campaign. 'Create new target list' by either adding targets/contacts or importing them from leads, contacts, targets or users easily. You can also import the existing target lists or upload an excel/csv file to create a new target list.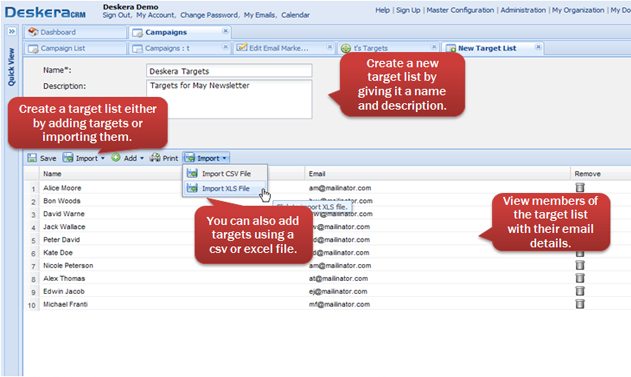 Also, watch our video below to learn more about creating a new target list.
Step 2: Add Email Marketing
Follow the simple steps given below to add an email marketing campaign:
Enter email marketing details like email marketing name, sender and reply mail and select a target list. You can configure the sender email using SMTP settings of your email service provider. Here are links to some popular e-mail provider settings: Find Gmail Settings here, Find Yahoo Mail Settings here, Find Hotmail settings here. Click 'Next' to move to the next step.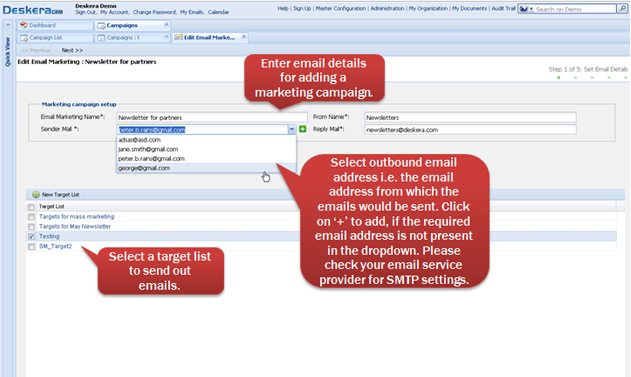 Select an email template from the existing templates or add a new one. Click on 'Next' to move to the next step.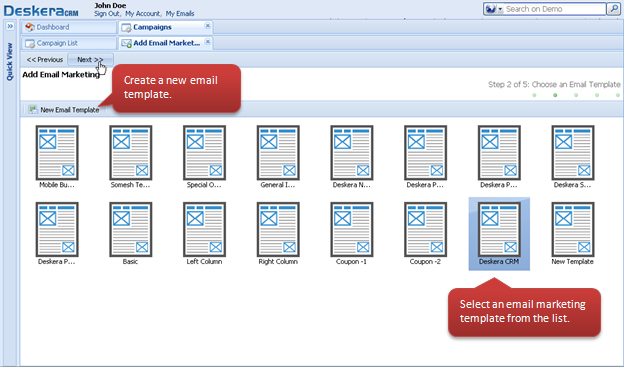 Edit email template by selecting a theme from the list and changing the background color of your template. Click on 'Next' to finalize adding the email template.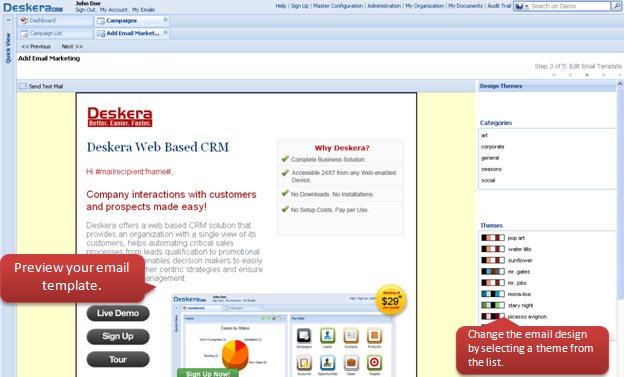 Get a snapshot of email marketing details to finalize the email campaign. You can carry out changes in any of the steps by clicking on 'Previous' or else click 'Finish' to add the campaign.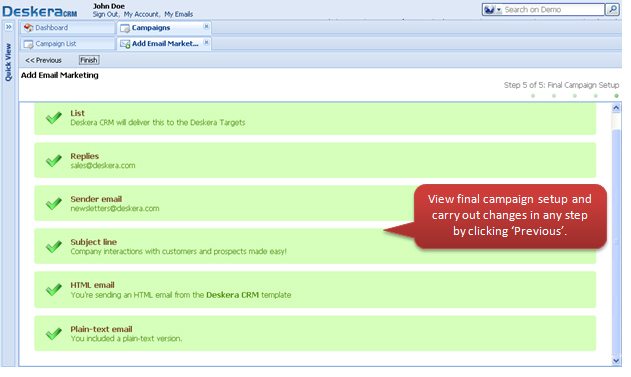 Creating a new email template:
Create a new email template with rich text formatting by embedding pictures, videos and even MS Word documents. Create a new template by following the steps given below:
Enter the template details like template name, description and subject
Insert a parameter type and value to personalize your email
Add the template and carry out the changes as per your requirement.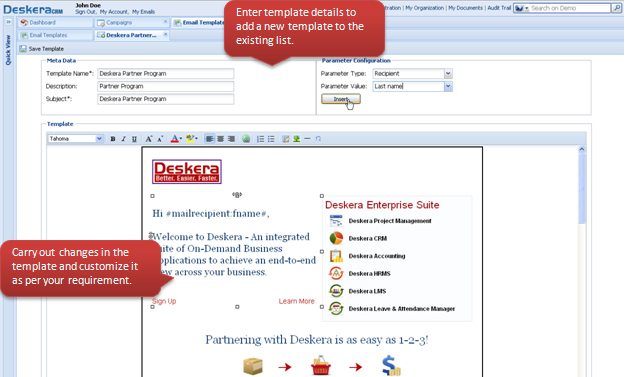 Step 3: Monitor Email Campaign Effectiveness
Monitor the effectiveness of your email marketing efforts through reports indicating the number of emails sent, actual customer views and email subscribers. Generate interactive bar graphs to view the status of your email marketing.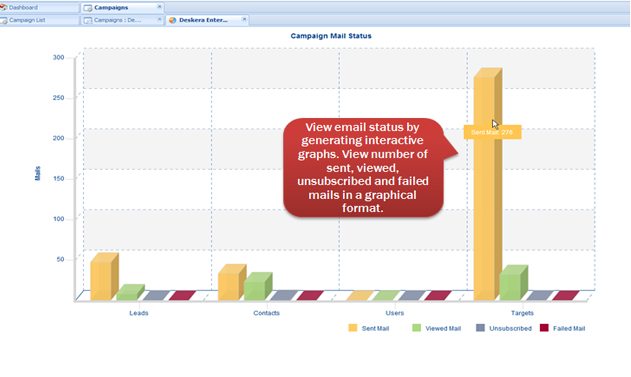 Also, view our interactive video on Deskera Campaign Management and Email Marketing on our blog post – "Effective Campaign Management, Email Marketing and more with Deskera CRM".
Have Fun with Deskera!